Obi-Wan Finale - The Loop
Play Sound
Series 2



Number of Episodes
12
Airing
18 January 2007 – 26 April 2007
Premiere
Episode 1
Finale
Episode 12
DVD Release
Region 2
10 March 2008
Series Chronology
Previous series
Series 1
Next series
Series 3
The twelve-episode second series aired on 18 January 2007 and featured a number of new main characters; pupil Brett Aspinall, school benefactor Roger Aspinall and school secretary Davina Shackleton.
A portion of the soundtrack in series two was provided by Cornish band, Thirteen Senses.
Plot
On 4 January 2007, BBC One began advertising the second series as coming soon. It began airing on BBC One Scotland on 14 January 2007 and in the rest of the UK on 18 January 2007.
The series featured the return of Lorna, following her attempted suicide at the end of Series 1 (she was not seen jumping into the water until the beginning of Series 2). This came as a shock to Tom and Izzie, who were expecting their first child together, until Izzie lost the baby after falling over during an argument with Lorna. Lorna realises Tom isn't the one for her, and that her MS and her career are making her life too stressful. She walks out of the school partway through a lesson. She re-unites Izzie and Tom, before committing suicide rather than living on with MS. In the last episode of the second series, Izzie sees Jack being attacked, and she gets stabbed trying to intervene. With only Jack there with her, and no one around, Izzie dies in his arms.
Other notable storylines in Series 2 of the show include the arrival and departure of prospective school benefactors Roger Aspinall and Jerry Preston, drug addict Maxine Barlow, who Steph Haydock accommodated, the (unrelated) drug dealing by Ma and Jed Seddon, the alcoholism of trainee teacher Russell Millen, and the bullying of Mika Grainger by fellow pupil Leigh-Ann Galloway.
Main Cast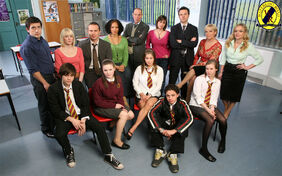 Staff
Pupils
Others
Craig Fitzpatrick as Lewis Seddon, a former pupil who lurks around causing trouble with his gang
Mikey North as Helmsley, a member of Lewis' gang (Episode 2 to 6)
Robert Beck as Terry Appleyard, Stacey's father (Episode 8 only)
Paul Birchard as Jerry Preston, an American fundamentalist Christian who Roger Aspinall brings in to attempt to take over the school (Episode 11 to 12)
Michael Keogh as Jed Seddon, a drug dealer who is Lewis's uncle (Episode 11 to 12)
Kathryn Hunt as Gemma 'Ma' Seddon, a drug dealer who is Lewis's aunt and Jed's wife (Episode 11 to 12)
Robert Angell as Nigel Hinchcliffe, the Chair of Governors (Episode 5 and 9)
Episode List
| # | Title | Directed by | Written by | Original air date |
| --- | --- | --- | --- | --- |
| 9 | Episode 1 | Barnaby Southcombe | Ann McManus & Maureen Chadwick | 18 January 2007 |
| 10 | Episode 2 | Jim Loach | Harriet Warner | 25 January 2007 |
| 11 | Episode 3 | Jim Loach | Ann McManus & Maureen Chadwick | 1 February 2007 |
| 12 | Episode 4 | Julie Edwards | Ann McManus & Maureen Chadwick | 8 February 2007 |
| 13 | Episode 5 | Farren Blackburn | Harriet Warner | 15 February 2007 |
| 14 | Episode 6 | Farren Blackburn | Phil Ford | 22 February 2007 |
| 15 | Episode 7 | Mike Cocker | Ann McManus & Maureen Chadwick | 1 March 2007 |
| 16 | Episode 8 | Mike Cocker | Harriet Warner | 29 March 2007 |
| 17 | Episode 9 | David Innes Edwards | Ann McManus & Maureen Chadwick | 15 February 2007 |
| 18 | Episode 10 | David Innes Edwards | Harriet Warner | 22 February 2007 |
| 19 | Episode 11 | Lance Kneeshaw | Phil Ford | 1 March 2007 |
| 20 | Episode 12 | Lance Kneeshaw | Harriet Warner | 29 March 2007 |