Doctor Strange in The Multiverse o Madness - The Loop
Play Sound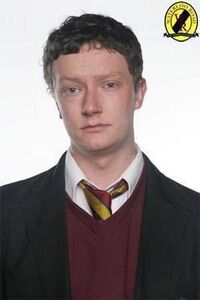 Bumbling, awkward and radioactive when it comes to attracting girls – it's like Philip Ryan was given an anti-smooth vaccine at birth. Philip's quick, funny and endearing – in a fairer universe he'd be popular, but at school he was the resident oddball, just desperate to be included. Philip's flakey mother, Melissa, dragged him around the country throughout his childhood, so when they finally settled at Waterloo Road, Philip quickly grew close to his reliable aunt. Unfortunately his 'Aunt Rachel' was known as 'Miss Mason' to everyone else and being outed as the Head Teacher's nephew, meant Philip kissed goodbye to his last remaining shred of street cred.
Since graduating, Philip has been doing 'this and that'. He got a job in a bar but frightened the customers. He was lucky to bag work cleaning buses at nights but kept falling asleep on the back seat. Philip also appeared in Waterloo Road Reunited. He was portrayed by Dean Smith.
Philip once gave Flick Mellor some of Miss Mason's used underwear as a present. He stalked her until later on in Series 4, when he understood that Flick was not interested.
Philip was also assaulted by Max Tyler which left his back bruised. In Series 5 Episode 10, Philip humiliated Max during his act in the school talent show, because he overheard Max talking about his plan to get Miss Mason fired. Luckily, it did not happen as she and Kim Campbell found out about the assault and Max got fired instead. Philip then left with classmates Bolton Smilie, Paul Langley and Michaela White in Episode 20 as they all graduated.