Obi-Wan Finale - The Loop
Play Sound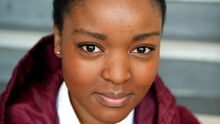 Lula Tsibi is an intelligent and outspoken girl, often finding herself clashing with her school mates, but behind the veener is a vulnerable girl who doesn't want to draw anyone close for a reason. She does not want the spotlight on her and wants to stay in the backgroud. Her intelligence about her religion helps her know what to do and what not to do. When it is found out what her uncle does to her Lula finally settles down at Waterloo Road and makes good friends with Harley Taylor and Kacey Barry who soon are roped into her protests against Norx Pharmacuticals. When Daniel Chalk and Kevin Chalk's app, 'Chalk and Cheese' comes out, Lula quickly finds she is addicted. In her final episode, it is revealed that her and her mother escaped the bloodshed in the Congo for a new life in Scotland but both her and her mother are being deported from the UK back to their original country. On the run, Lula hides at the school whilst the students, led by Audrey McFall, stage a protest against the deportation. However, this fails as Lula reveals herself to the deportation officers and kisses Harley Taylor just before she is deported back to the Congo.
Two episodes later, after many failed attempts to obtain contact, Lula video calls Audrey and Harley to let them know that she is safe and well, living in Kinshasa with relatives. She informs them that she is planning to become a teacher at the local school. The video call is later interrupted by poor internet connection and Lula is not heard from again.
Trivia
Just like her actress - Marlene Madenge, Lula and her family both escaped the bloodshed in the Congo for a new life in Scotland several years ago.
Lula is of Congelese descent.
Lula has strong belief against animal cruelty, vivisectioning and testing, Lula is vegetarian.
Along with her other beliefs Lula is deeply religious.
Lulas exit is similar to that of Sameen Azizi in Series 3. In both cases they run away from the deportation officers and the school rally behind them. Also in both cases they eventually give themselves up to the deportation officers and are both deported.