Doctor Strange in The Multiverse o Madness - The Loop
Play Sound
Lorna Hutchinson is the ninth Deputy Headteacher of Waterloo Road. She was the replacement for Simon Lowsley, and she immediately falls into conflict with former Head Teacher (now Head of English), Christine Mulgrew.
In episode 13, when she arrives home from work Lorna calls her mother from a second mobile phone which is kept in a drawer. She lies about the location of her new job, claiming she is working in London.
Series 10 Spring Term
Lorna starts her new job at the school being accidentally punched in the face by new pupil Kenzie Calhoun. Throughout her first episode, Lorna pursues Kenzie and the reason for her feud with Scott Fairchild.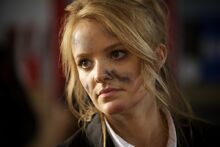 After Kenzie runs out of school, Lorna goes to visit her house where she finds Kenzie is a full time carer for her mother who has ME. She also finds other pupil's school books which Kenzie has used to copy off identically. Lorna finally breaks through to Kenzie in an argument over a science test where Kenzie tells her she can't read or write.
Kenzie takes private tutoring from Christine Mulgrew, however Lorna wishes to carry on instead, something Christine later agrees to.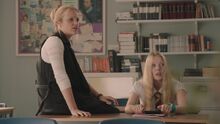 Part way through the term, Lorna and Christine form a PTA to fight the merger. They have to battle Steph Norton, a parent who is very open to the merger with Havelock and organize a trip to Havelock High. Mr Bond, a senior teacher at Havelock recognises Lorna from a wedding, something Lorna denies going to, suggesting she has a secret. In episode 18 of series 10 her husband shows up and she does not look to pleased to see him as she left him 4 months ago, something is off and Rob says he has changed and in the final episode we see his true colours that suggests that she was in an abusive relationship with him.