Cobra Kai Season 4 - The Loop
Play Sound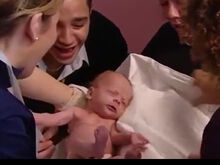 Izzie Maxine Charles is the baby daughter of Chlo Grainger and Donte Charles. Izzie was named after Chlo's late mother Izzie Redpath, who was fatally stabbed by Lewis Seddon's uncle. Her middle is name is after one of her mothers best friend who sadly got shot to death by Earl Kelly.
When Chlo found out she was pregnant with Izzie, she kept the baby, but towards the end of the pregnancy, decided she wanted to give Izzie up for adoption.
Chlo's waters broke when she was in the girls' toilets, while Donte was ready to divorce her and bring up the baby himself with the help of Tom. She gave birth in the toilets with the help of Kim Campbell, who was there talking to Chlo when her waters broke, and Donte, who'd been told by Janeece Bryant that Chlo was in labour.
Later, after Chlo had been brought to the hospital, Donte told her that if she really wanted to put the baby up for adoption, he'd accept it because he loves her. But Chlo asked to see her baby, and when she did so, decided she wanted to keep her daughter and named her after her mother.
After Chlo was offered a spot in Manchester University and Tom wanted her to go even though she didn't want to, Tom bought the family a house next to the University, knowing that Chlo wanted to go and didn't want to see her let go of her dream. Donte, Chlo and Izzie moved to Manchester, and this is the last we saw of them.