Obi-Wan Finale - The Loop
Play Sound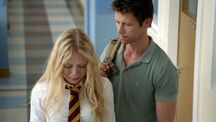 Hector Reid was a jocular and sometimes vitriolic teacher of PE in Waterloo Road. He was a primary victim of Gabriella Wark, who continually tried to sexually induce him, and often punishing him when he refused. Hector once slept with Nikki Boston. He is also a Rangers Ultra. He sits in Section BF1 with Union Bears
Hector had a strange personality. He was often friendly to his students and promoted the usage of resilience as hired by Simon Lowsley, but when people such as Gabriella Wark got into his nerves he would often humiliate them, as done in front of the whole class, Nikki Boston and Vix Spark. As of his first appearance, he was incredibly cool-demeanoured and laid-back, almost mentally invulnerable to others, he tries to maintain a calm manner even in toxic or challenging situations.
He makes sardonic jokes about almost insane things, particularly when Gabriella tried to take his van and escape the school. Despite being extremely positive and kind-natured, he was quite malicious when doing this, so Gabriella and Barry Barry punctured his motorcycle tyre in return.
Hector slept with Nikki Boston, and Gabriella Wark found out and started to say things about Vix and Nikki and then Vix found out and broke up with Nikki, but they later reconciled. In episode 20 Nikki leaves for Berlin with Vix, and Hector kisses Vix's sister, Sue Lowsley.
Series 9
Hector starts his time at Waterloo Road with a bang. In the first assembly Hector along with the help of Simon pretend that the students have been taken hostage. This is a stunt which lands them both in hot water with headteacher Christine Mulgrew.
On the same day Hector finds himself being admired by new pupil Gabriella Wark. On her first day Gabriella flashes him a stunt which nearly gets him fired.
During the school camping trip Hector continues to advance on Nikki Boston despite knowing that she is a lesbian. Busy off flirting with her Gabriella deliberately gets herself in trouble and calls Hector to get her. Having turned his phone off Hector finds himself in deeper trouble with Christine.
In Series 9 Episode 16 (A Bolt from the Blue) Gabriella catches Hector and Nikki coming into school together and reveals their affair. Hector furious with Gabriella warns her to keep away from him. Gabriella and Barry Barry respond by flattening his motorbike tyres.
In Series 9 Episode 20 (New Highs, New Lows) Hector kisses Sue a move which she quickly moves away from. This sets up Hectors story line for Series 10.
Series 10
Throughout the first half of series ten Hector sets his sites on Sue Lowsley. The two of them share a relationship behind Simons back.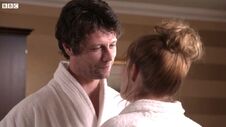 In Series 10 Episode 9 (Yesterday's Child) this all comes to a head as Sue reveals the affair to Simon. Simon in anger rushed into the gym where Hector is teaching and pushes him against the wall. Simon almost hits him with a bat but Vaughan Fitzgerald manages to talk Simon out of it. As Simon drives away to start his new job having asked Sue for divorced he suddenly reversed and knocks over Hectors motorbike. This is a move that upsets him.
In Series 10 Episode 10 (The Final Straw) Hector tells Sue his plans for the two of them to move abroad in order for him to become a ski instructor. Sue having taken George Windsor's advice on board refuses telling Hector that she needs to be on her own for a while. Hector is last seen leaving the school teary eyed. He is not seen again.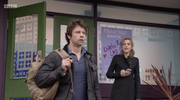 Trivia
Hector and Sue are actually married in real life. Leon and Vanessa have a three year old daughter together, called Lyla Ockenden