Obi-Wan Finale - The Loop
Play Sound
Allie Westbrook serves as the true anti-hero of Series 10 part 1. She joins Waterloo Road in late 2014 as the new Head of Art. She arrives at the School with fellow partner and new Head Teacher Vaughan Fitzgerald and her children Floyd and Tiffany .
Allie later left Waterloo Road at the end of the term when her relationship with Vaughan became too complicated. Both needed to take care of their respective families.
Personality
Allie is a committed and capable teacher. Passionate about art, she's the kind of cool teacher the students can relate to. Allie and Vaughan met as teachers at their last school. They began an affair, which led to Vaughan leaving his wife and sons to be with Allie. She's very close to her children Floyd and Tiffany, and the move to Waterloo Road is a new start for all of them. Her relationship with Vaughan soon comes under strain from the amount of resentment and bitterness felt by his eldest son, Justin, and the animosity and suspicion she treats him with as a result.
Series 10 Autumn Term
Allie had a rough start to Waterloo Road, on her first day Vaughan's estranged wife, Olga, turned up at the school with their two sons Justin and Leo. Later that day Justin started a fight with Allie's son Floyd, beginning a feud between them. Later, at their house Justin slams a door at Allie's head, she later tells Vaughan she walked into a wardrobe.
In Series 10 Episode 2, Allie hears complaint after complaint about the boys' behaviour and asks Simon Lowsley to arrange a mediation between them, this inevitabley fails and leads to Justin throwing a tin at George Windsor's head, he later resigns warning Vaughan and Allie that Justin will only get worse. Allie later has the idea of a virtual baby scheme to prevent underage sex at the school.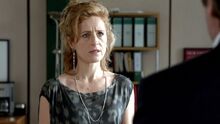 She implements this new strategy in episode three, and spends alot of time with Rhiannon Salt and Shaznay Montrose teaching them about mothering a baby. After Justin smashes one of the virtual babies, Allie goes to Vaughan for comfort and ends up telling him Justin hit her head, Vaughan then angrily confronts Justin over this and puts him into isolation.
In Series 10 Episode 7, Tiffany tells Allie that her and Justin have been sleeping together. Allie begs Justin to break it off but he refuses. Allie and Vaughan try to come up with strategies to keep Allie and Justin apart but they know they will still find ways to see each other. Allie suggests that Vaughan sends Justin to boarding school.
In Series 10 Episode 8 Vaughan and Allie have reached a decision to send Justin to boarding school. Unbeknowgst to them Justin and Tiffany plan to run away together. Tiffany, however is unsure and sends her mum frantic texts of where to find her. Allie finds Tiffany and drives her home leaving Justin alone at the side of the road. Allie is furious when Vaughan decides that he can't bear to send Justin away to boarding school.
In Series 10 Episode 10 things reach breaking point as Allie shows Justin Tiffany's frantic texts. Justin, deviated punches Allie in the face. Vaughan takes Justin to the police saying that Allie wants to press charges. After Justin tries to blow up the school using a lighter and a gas canister, the two realise that things aren't going to work. Vaughan and Allie split up on mutual grounds as they decide that they have to put their children first.
Allie is last seen leaving in a taxi along with Floyd and Tiffany. None of them are seen again.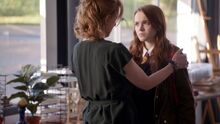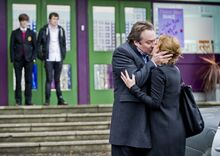 Behind the Scenes
Nicola Stephenson filmed on Waterloo Road as part of the ninth series, filming September to October 2013
Quotes
"Absolutely, you are one sexy headteacher." (First line, spoken to Vaughan)